"A Meat Locker in Hebron": Meat Eating, Occupation, and Cruelty in To the End of the Land
Abstract
In this paper, I explore the connections between meat-eating, cruelty, and the Israeli/Palestinian crisis in Israeli author David Grossman's 2008 novel To the End of the Land (translated from the Hebrew in 2010 by Jessica Cohen). Using the radical vegetarian-feminist theories of Carol J. Adams, I argue that in the novel, Grossman reveals how the Israeli nation-state's treatment of the occupied Palestinian people is part and parcel of the same ideological construct that allows its citizens to consume the flesh of dead animals; if a nation can eat meat, it can dehumanize and oppress its unwanted others. In particular, I look at a pivotal moment in the novel, where the protagonist Ora's son's military unit leaves an elderly Palestinian man chained up and suffering in a Hebron meat locker; I locate this event as the most important physical space in a novel preoccupied with space, land, and physicality. I also look at another example of a Jewish author grappling with the cruelty of eating meat, the Yiddish writer Isaac Bashevis Singer's short story "The Slaughterer." Finally, I interrogate the idea, put forward by Todd Hasak-Lowy, that Grossman is less concerned with the sufferings of the Palestinian people than he is the sufferings of the stoic Israeli, forced to make compromising moral choices.
References
Adams, Carol J. The Sexual Politics of Meat: A Feminist-Vegetarian Critical Theory. Twentieth Anniversary Ed, Continuum, 2010.
Almog, Yael. "Public Rituals: Grasping Myth in David Grossman's To the End of the Land." Contemporary Judaism and Politics, vol. 6, no. 2, 2016, pp. 231-250.
Blumenthal, Max. The 51 Day War: Ruin and Resistance in Gaza. Nation Books, 2015.
"Cruelty, n." The Oxford English Dictionary. OED Online. http://www.oed.com.ezproxy.library.yorku.ca/view/Entry/45169?redirectedFrom=cruelty&. n.d.
Donovan, Josephine. "Aestheticizing Animal Cruelty." College Literature, vol. 38, no. 4, 2011, pp. 202-217. JSTOR. Accessed 28 May 2018. DOI: https://doi.org/10.1353/lit.2011.0044
Grossman, David. To the End of the Land. Translated by Jessica Cohen, Emblem,2011.
Fishbain, Einat. "A City of Devastation: Hebron 20 Years After the Massacre." 972 Magazine, 25 Feb 2014. https://972mag.com/a-city-of-devastation-hebron-20-years-afterthe-massacre/87714/. n.d.
Hasak-Lowy, Todd. "Grossman after 2000: An Ambivalent Complaint in Nine Parts." Hebrew Studies, vol. 54, 2013, pp. 299-309. JSTOR. Accessed 3 Aug 2015. DOI: https://doi.org/10.1353/hbr.2013.0018
Lipsker-Albeck, Avidov. "Oral or Textual: or, In What Sense David Grossman Is a Vegetarian?" Ot: A Journal for Literature and Theory, vol. 2, 2012, pp. 205-217 (Hebrew), translated by Avidov Lipsker-Albeck, academia.edu.
McLaughlin, Ryan P. "Non-Violence And Nonhumans: Foundations For Animal Welfare in the Thought of Mohandas Gandhi and Albert Schweitzer." Journal of Religious Ethics, vol. 40, no. 4, 2012, pp. 678-704. DOI: https://doi.org/10.1111/j.1467-9795.2012.00543.x
Melcer-Padon, Nourit. "Fending Off Pain: David Grossman's Labyrinth of Language." Knowledge and Pain, edited by Esther Cohen, et al., Brill, 2012, pp. 331-352. DOI: https://doi.org/10.1163/9789401208574_017
Mintz, Alan. "David Grossman's To The End of The Land: A Symposium." Hebrew Studies, vol. 54, 2013, pp. 285-286. DOI: https://doi.org/10.1353/hbr.2013.0008
Pick, Anat. Creaturely Poetics: Animality and Vulnerability in Literature and Film. Columbia UP, 2011.
Ruetenik, Radd. "Violence, Sacrifice, and Flesh Eating in Judeo-Christian Tradition." Contagion: Journal of Violence, Mimesis, and Culture, vol. 22, 2015, pp. 141-151. DOI: https://doi.org/10.14321/contagion.22.1.0141
Singer, Isaac Bashevis. Preface. Food For the Spirit: Vegetarianism and the World Religions, by Steven Rosen, Bala Books, 1990, pp.1-14.
Singer, Isaac Bashevis. "The Slaughterer." Translated by Mirra Ginsburg, The Collected Stories, Farrar, Straus, Giroux, 1996. pp. 207-216.
Shenhav, Yehuda. Beyond the Two State Solution: A Jewish Political Essay. Polity Press, 2012.
Storace, Patricia. "A Woman Running From the News." Review of To the End of the Land. The New York Review of Books, 13 Oct 2011.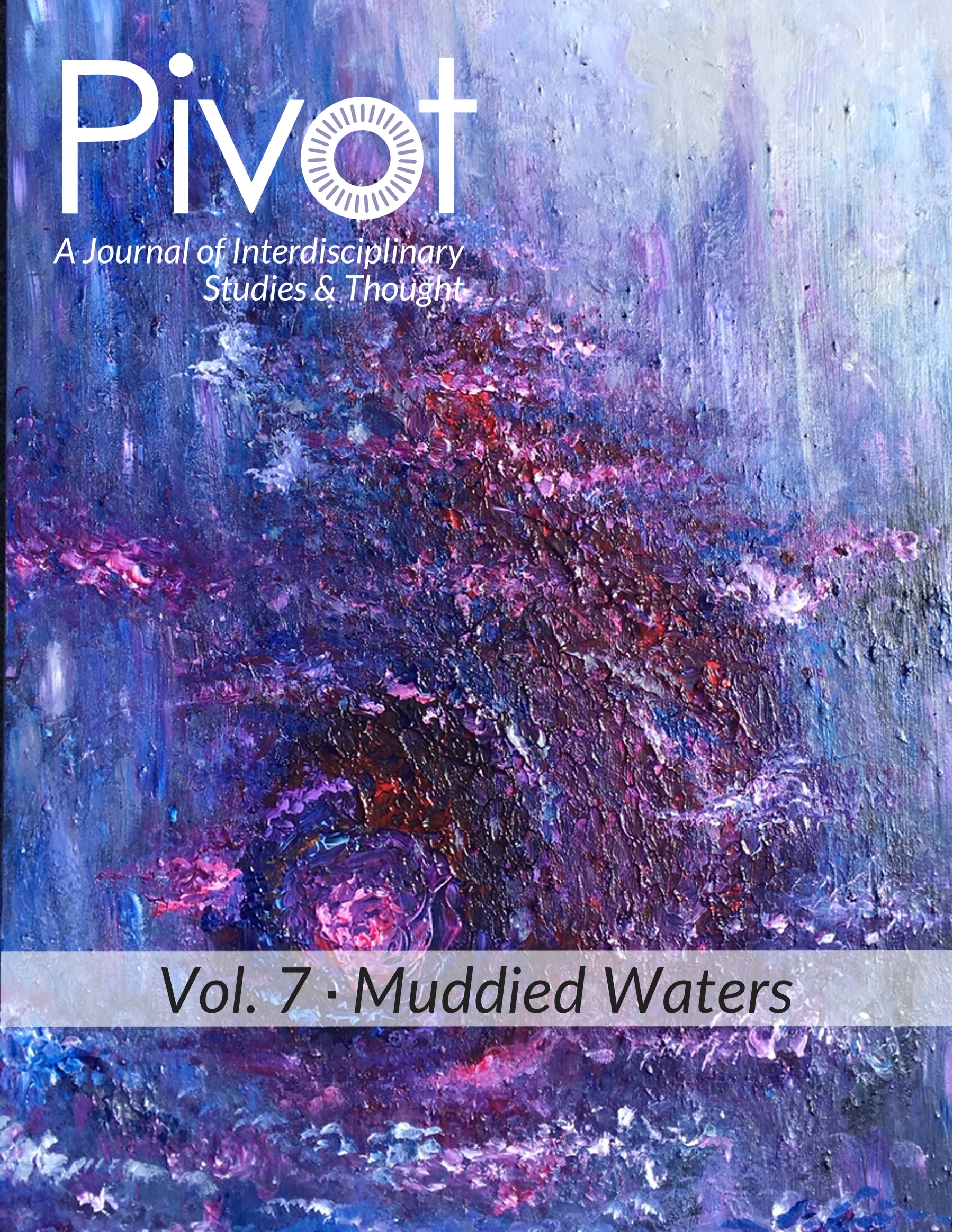 Downloads
How to Cite
Kreuter, A. (2019). "A Meat Locker in Hebron": Meat Eating, Occupation, and Cruelty in To the End of the Land. Pivot: A Journal of Interdisciplinary Studies and Thought, 7(1). https://doi.org/10.25071/2369-7326.40308
Section
Critical Articles